Droopy Eyelids
Dermatochalasis
What is dermatochalasis?
Dermatochalasis is an optical health condition that causes excess skin to form on the upper or lower lids of a patient's eyes. Though often cosmetic in nature, as the problem progresses patients can begin to experience vision obstruction. In severe cases, dermatochalasis can disrupt over 50% of the visual field.
What causes dermatochalasis?
Dermatochalasis can be caused by a genetic predisposition that causes excess skin on the eyelids to form naturally. Congenital dermatochalasis often affects patients around 20 years of age. In rare cases, dermatochalasis can be the symptom of an illness or disease occurring elsewhere in the body. However, in most cases dermatochalasis is caused by the natural onset of aging. Patients as young as 40 years of age can begin to experience a loss of elasticity in the tissue that works to connect the structures of your eyelid, causing drooping and excess skin.
The symptoms of dermatochalasis include:
Eyes which appear to be constantly tired
Drooping lids
Wrinkles in the lower eyelids
Bags in the lower or upper lids of the eyes
Excess skin in the upper or lower eyelids
Blurry or obstructed vision
Loss of vision in the superior visual field
How is dermatochalasis diagnosed?
Dermatochalasis can be diagnosed by a simple optical examination from an ophthalmologist. Our doctors will go over your medical history to ensure a personalized course of treatment.
What are the treatment options for dermatochalasis?
Dermatochalasis can be treated successfully for both cosmetic as well as medical needs through a state of the art surgical procedure known as blepharoplasty. In this treatment, an eye surgeon works to remove the excess skin, fat, and muscle of your lower and upper eyelids. Surgery is typically recommended for severe cases in order to improve both the appearance of your eyelids as well as to remove visual obstructions from with your sight.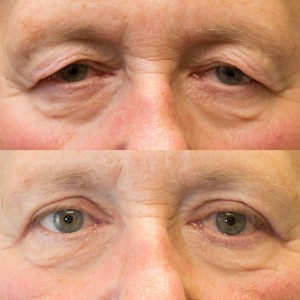 Brow Ptosis
What is brow ptosis?
Brow ptosis is defined simply as a gradual descent of the brow fat pad, and the subsequent gradual drooping of the brows of your eyes.
What causes brow ptosis?
Brow ptosis can often be a symptom of a secondary condition occurring in the human body, including illnesses such as Bell's palsy, myotonic dystrophy, basal cell carcinoma, melanoma, keratoacanthoma, squamous cell carcinoma, and facial dystonias. An acoustic neuroma, and even surgical trauma or birth defects can also be to blame for a case of brow ptosis. However, the most common cause of brow ptosis occurs simply from the natural onset of aging from the deflation of soft tissues in the preorbital area as well as the loss of elasticity in the soft tissues of a patient's face entirely.
Symptoms of brow ptosis include:
Brows which sit at or below the superior orbital rim
Gradual shrinking of a patient's peripheral vision
Difficulty seeing while reading or driving
Tension headaches
Headaches which grow worse during activities with vision in close range such as reading or working at a computer
Eyelashes that can be seen in the central vision region
How is brow ptosis diagnosed?
Brow ptosis is diagnosed by evaluating the position of your brows, as well investigating the supporting structures of your orbital area to pinpoint the exact cause of your case of brow ptosis, be it the onset of aging or a far more serious matter such as oculomotor nerve palsy or Horner's syndrome. Digital imaging to inspect the eye and the surrounding tissues works to ensure the cause is not that of an aneurysm in the eye.
What are the treatment options for brow ptosis?
Brow ptosis can be treated with a brow lift procedure for severe cases to correct sagging of the skin in the forehead, upper eyelids, and the eyebrows. Botox can also be used in some cases depending on the severity of the condition.
Corpus Christi Office Hours
Monday:

8:00AM-5:00PM
Tuesday

8:00AM-5:00PM
Wednesday:

8:00AM-5:00PM
Thursday:

8:00AM-5:00PM
Friday:

8:00AM-12:00PM
Aransas Pass Office Hours
Monday:

Closed
Tuesday

9:00AM-5:00PM
Wednesday:

Closed
Thursday:

9:00AM-5:00PM
Friday:

Closed
Submit a Testimonial